Introducing Pyzdek Process Excellence Pointers: Addressing Six Sigma
---
Welcome to the first installment of the Pyzdek Process Excellence Pointers blog, where we discuss all things Process Excellence. This post summarizes our inaugural podcast, hosted by Tom Pyzdek.
Who is Tom Pyzdek?
Tom Pyzdek has a rich 40-year history in Process Excellence. With a wide range of experience that spans from manufacturing toys and tin cans to working on spacecraft and guided missiles, Tom brings a wealth of knowledge to our podcast series. He has published over 50 copyrighted works, spoken around the world about Six Sigma, lean, and other Process Excellence-related topics, and served as an adjunct faculty member at numerous educational institutions.
Misunderstandings about Six Sigma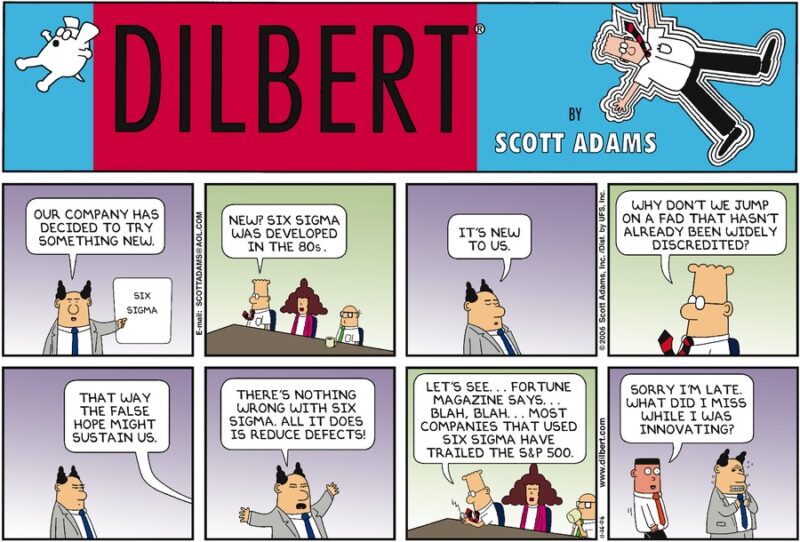 In our first episode, Tom responded to a Dilbert comic strip that critiqued Six Sigma. While the strip claimed Six Sigma is a discredited fad, Tom disagrees. He explains that Six Sigma has grown in importance over the last 20 years and is now a crucial strategy for many businesses. Far from being a fad, Six Sigma offers a new approach to improving processes, replacing the old command-and-control method.
Tom further clarified that Six Sigma focuses not only on reducing defects (undesirable outcomes) but also on optimizing desired outcomes. It is a strategy that strives for greater efficiency, quality, and employee morale.
The Fortune Magazine Article
The comic strip referenced an article in Fortune Magazine that reportedly discredited Six Sigma. However, upon inspection, Tom found that the article's primary source was a study by Charles Holland, CEO of QualPro – a direct competitor of Six Sigma. Without access to the study, Tom pointed out potential statistical flaws and the potential for bias given Holland's interest in promoting his own product.
The Value of Six Sigma
Tom mentioned a more reliable academic study by Kevin B. Hendricks and Vinod R. Singhal that confirmed the long-term value of quality programs like Total Quality Management (TQM) and by extension, Six Sigma. This study showed improvements in stock performance, operating income, sales, total assets, employment growth, return on sales, and return on assets for companies employing these programs.
The Future of Six Sigma
Despite Dilbert's humorous critique, Tom firmly believes in the validity and future growth of Six Sigma. As our businesses become more complex, Six Sigma will remain a reliable approach to manage and improve processes.
In our next podcast, we will delve into the technical side of statistics and discuss the concept of collinearity. This topic is increasingly important as our data becomes more complex, particularly in areas like customer data and complex manufacturing data. Join us for the next episode to explore this topic further.
Keep tuning in to the Pyzdek Process Excellence Pointers podcast and accompanying blog posts for more insights into the world of Process Excellence.