AT&T Stumbles with Its Customers Again
---
PC World reports That AT&T's wireless service has once again fared badly with its customers. This time with its business customers. AT&T has scored poorly in a wireless carrier satisfaction survey of small and medium businesses and large companies, mirroring an equally dismal performance among consumers last month. AT&T scored at or near the bottom of the major carriers in virtually every category, including voice service pricing, voice coverage, voice quality and customer service. Of the 11 categories surveyed, AT&T was last among the the major carriers in 9 categories.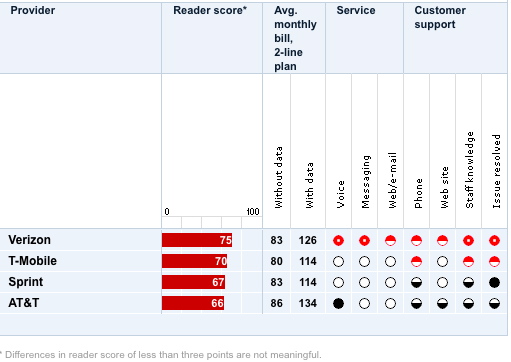 In a Consumer Reports survey of 50,000 wireless customers published last month AT&T scored dead last in most categories. That AT&T would bring up the rear "in high-profile markets like New York and San Francisco isn't all that surprising," Digital Daily said, adding "New Yorkers often carp about dropped AT&T calls, and complaints about lousy service in the Bay Area are legion… But to find that the carrier placed last in 17 other cities as well suggests that AT&T's shortcomings are more widespread than the carrier would have us believe and not simply the product of a high concentration of iPhones in the country's larger cities."
In addition to its poor quality service, AT&T also had the most expensive average monthly bills for two-line plans, the survey found, as its wireless voice services clocked in at an average of $86 a month and its wireless voice plan with data averaged $134 per month. This double-whammy of low quality and high price is certainly something that will, sooner or later, be reflected in sales. Perhaps this is the reason behind AT&T's recent announcement that it will ramp up capital spending on its wireless network by $1 billion next year. However, while this sounds good at first blush, it is less impressive when one realizes that it is an increase of less than 6% of AT&T's capital budget.
Perhaps most disturbing is that apparently AT&T's leadership wants to blame the customer for the poor satisfaction results. Ralph De la Vega, head of AT&T's consumer services division, told investors that his company's problems stem from users. "We've got to get them to understand what represents a megabyte of data. We're improving all our systems to let consumers get real-time information on their data usage." De la Vega predicts that charging for data is inevitable to protect AT&T's network-and never mind how customers might respond to it. Perhaps this attitude is the reason why, according to Macworld magazine, Apple and AT&T could be headed for a split in 2010. If this occurs it will deprive AT&T of the one bright spot in it's cell phone business, the wildly popular iPhone.