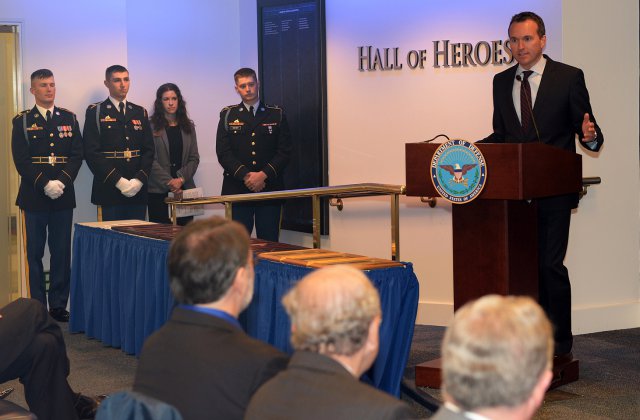 Ten Army Organizations Earn Lean Six Sigma Excellence Awards
---
In recent years, the Army has adopted lean business practices in an effort to save money, eliminate waste, and improve efficiency. The Lean Six Sigma Excellence Awards Program, known as LEAP, was developed seven years ago to recognize groups within the Army that have successfully implemented results-driven process improvement projects.
The 2014 LEAP winners were recently honored at a ceremony at the Pentagon. Ten Army organizations received awards for excellence in Lean Six Sigma project execution. The awards were presented by Eric Fanning, Acting Undersecretary of the Army, and Robert Swan, deputy director, Army Office of Business Transformation.
Fanning was full of praise for the award recipients, lauding the value of their contributions. "It's not just the cost-savings and avoidance that you realize… you actually introduce real efficiencies for our soldiers, for their families and our civilians. You make a difference in people's lives every single day. You make their lives easier."
The following groups won organizational deployment awards:
Winner of the Lean Six Sigma HQDA Principal Staff in the Organizational Deployment Award: Assistant Secretary of the Army for Manpower and Reserve Affairs/G-1
Winner of the Lean Six Sigma AR 10-87 Organizational Deployment Award: U.S. Army Medical Command
Winner of the Lean Six Sigma Subordinate Organizational Deployment Award: 21st Theater Sustainment Command, U.S. Army Europe
Additionally, seven groups earned project team awards:
U.S. Army Dental Command, U.S. Army Medical Department Center and School, U.S. Army Medical Command, or MEDCOM, for a project that resulted in a 57% decrease in the time between the arrival of a dental professional on station and a release to treat patients.
Logistics and Readiness Center, U.S. Army Materiel Command for their project, "Streamlining the Acquisition Requirements Package Process." The project reduced lead time by 65% and generated a considerable financial benefit of cost avoidance.
Europe Regional Medical Command for a project that transformed the disability evaluation system and reassignment process.
21st Theater Sustainment Command, U.S. Army Europe for a project that sought to improve the 18th Combat Sustainment Support Battalion Chapter Initiation Process. This project resulted in a 67 percent reduction in the cycle time and a 38 percent reduction in the average cost per chapter.
U.S Army Public Health Command for a project entitled, "Reduce Process Cycle Time of the Ergo Course Planning and Execution Process." This project applied distance learning practices, eliminated all travel temporary duty assignment from the training delivery, and achieved the removal of 97 percent of recurring labor hours and reduced process cycle time from 124 days to five days.
Program Manager Apache, Program Executive Office Aviation, Assistant Secretary of the Army (Acquisition, Logistics and Technology) for a project focused on contract negotiations. The team improved effectiveness and achieved a cost avoidance of 7%.
1109th Theater Aviation Sustainment Maintenance Group, Connecticut National Guard, National Guard Bureau for a project focused on cost, rework and lead time processing for UH-60 blade cuff restorations. The team achieved a 50 percent decrease in average blade cuff repair time and a reported a stable increase in monthly production.
Lean Six Sigma training is saving the Army time and money.